Table of Contents
Finviz Heatmap and Market Summary
Welcome to our semi-weekly blog series on stock market indicators. In this post, we will provide you with a comprehensive overview of the key indicators that influence the stock market each week. Whether you're a seasoned investor or just starting to dip your toes into the world of stocks, understanding these indicators is crucial for making informed investment decisions. Today, we will specifically focus on stock market volatility and its impact on market trends. So, let's dive in and unravel the intricacies of the weekly stock market indicators together.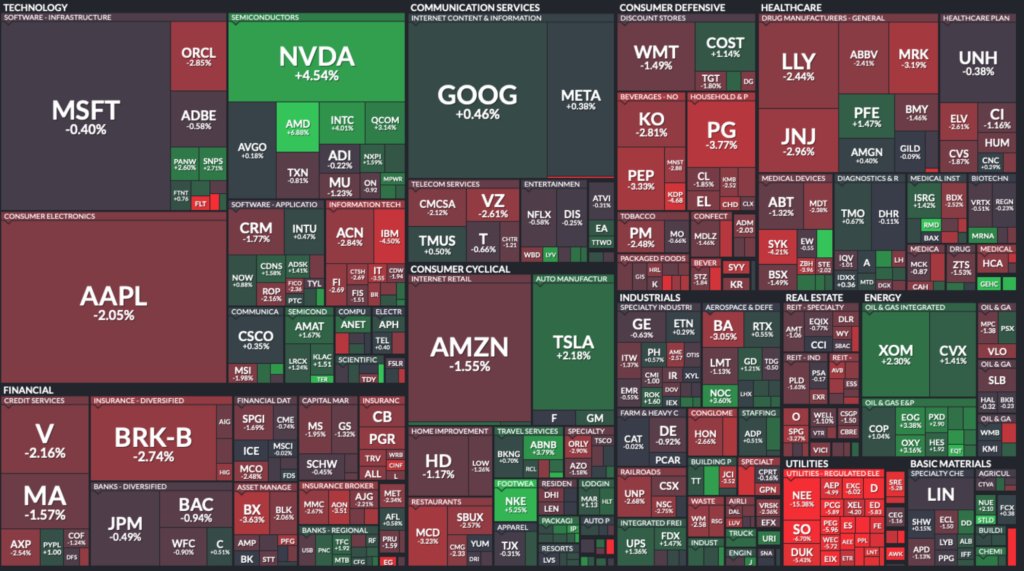 The Finviz Heatmap visually represents stock performance through color and size indicators. Red signifies declining stock prices, while the size of the stocks reflects their market capitalization. Additionally, the heatmap is divided into sectors, allowing users to quickly assess performance within specific industries.
Market Snapshot
20 Minute Delay
Market Report: Weekly, Monthly, Yearly as of 9/30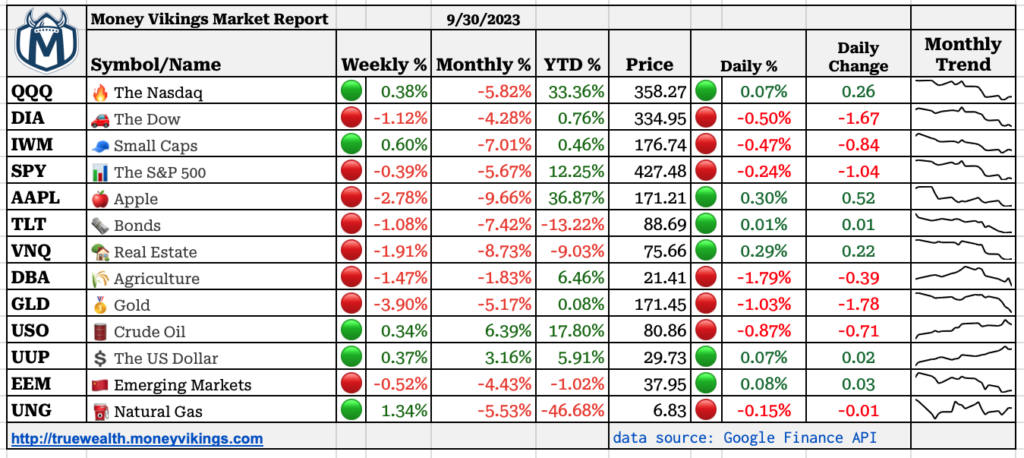 Sector Report: Weekly, Monthly, Yearly as of 9/30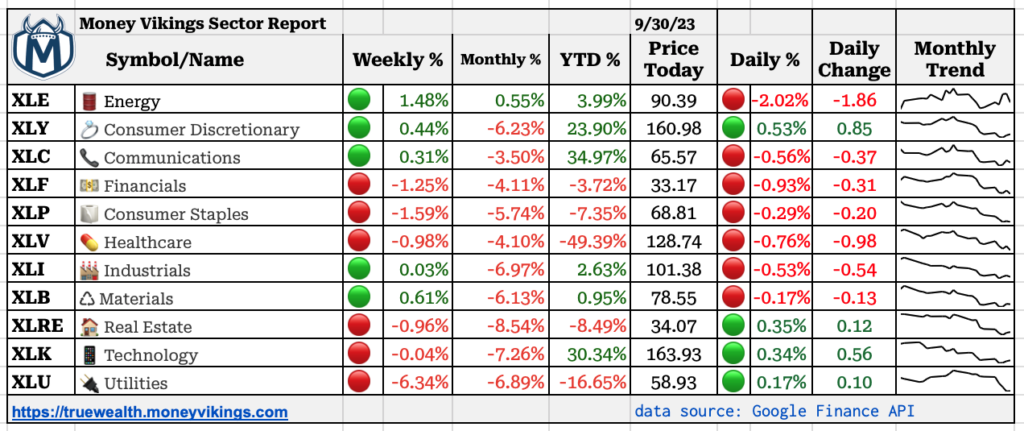 Fear and Greed Index – FEAR

The Fear and Greed Indicator is a tool used to gauge the overall market sentiment based on several indicators. It provides valuable insights into investor behavior by analyzing factors such as volatility and options trading. When volatility is increasing and more people are buying puts than calls, it indicates a higher level of fear in the market. Conversely, if the indicator shows more people buying calls than puts, it suggests a higher level of greed. This indicator serves as an important tool for investors to assess market conditions and make informed decisions.
VIX – It's holding highs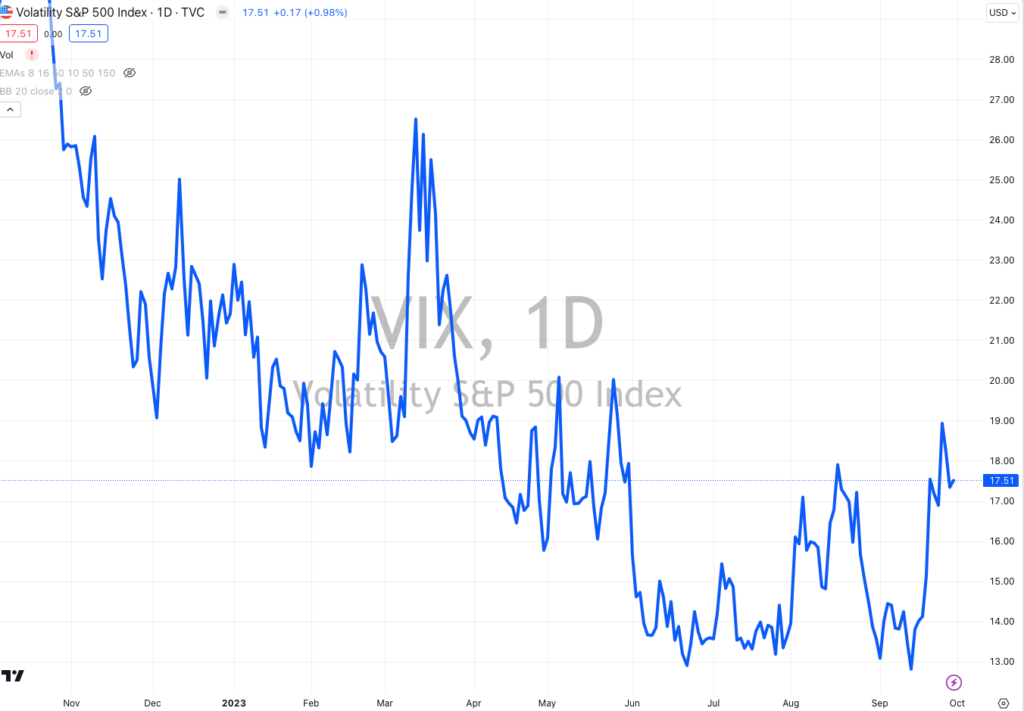 The VIX, or the CBOE Volatility Index, is significant for several reasons. Primarily, it serves as an indicator of the expected 30-day volatility of the S&P 500, providing insights into the market's sentiment and risk perception. When the VIX rises, as seen in recent times, it signals heightened fear and uncertainty among investors. Conversely, a declining VIX generally suggests a more bullish sentiment. Understanding the VIX is particularly important for options trading, as high volatility is preferable for selling options, while low volatility is preferable for buying options.
SPY Down 5% for September, a Sesonal Thing?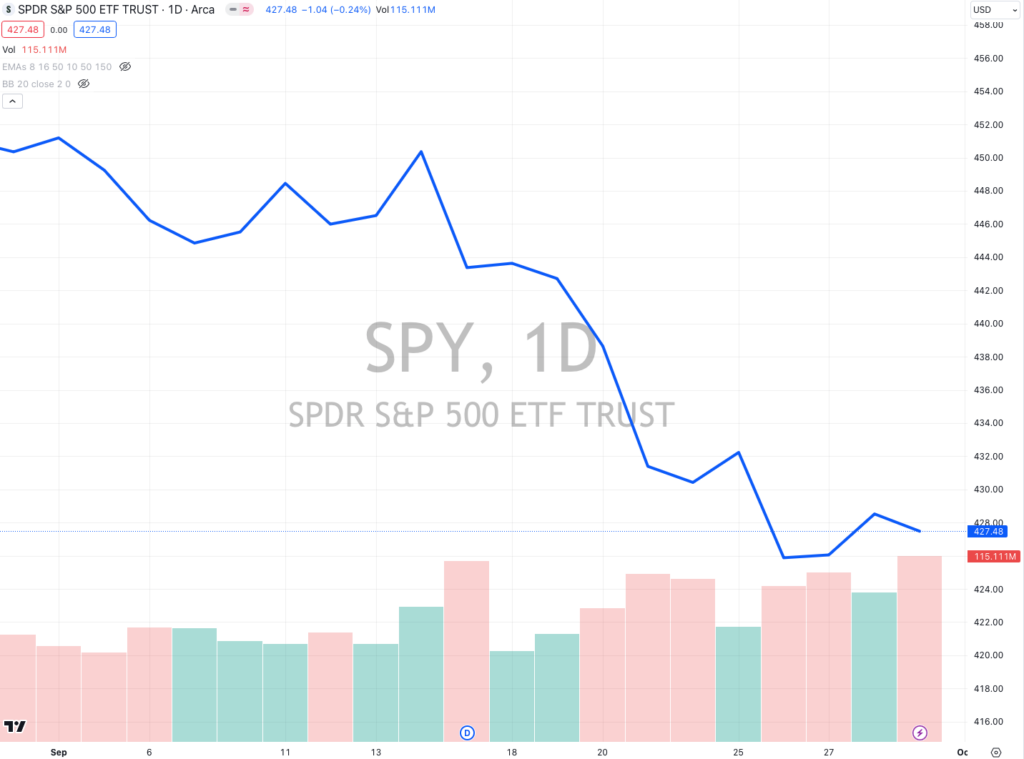 The performance of the S&P 500 over the last year has shown some notable trends. Currently, it is trading below both the 10-day and 50-day moving averages, indicating a potential downward trend. Recently it has broken the 200 day moving average, another bearish signal.
Interest Rates – Higher and Higher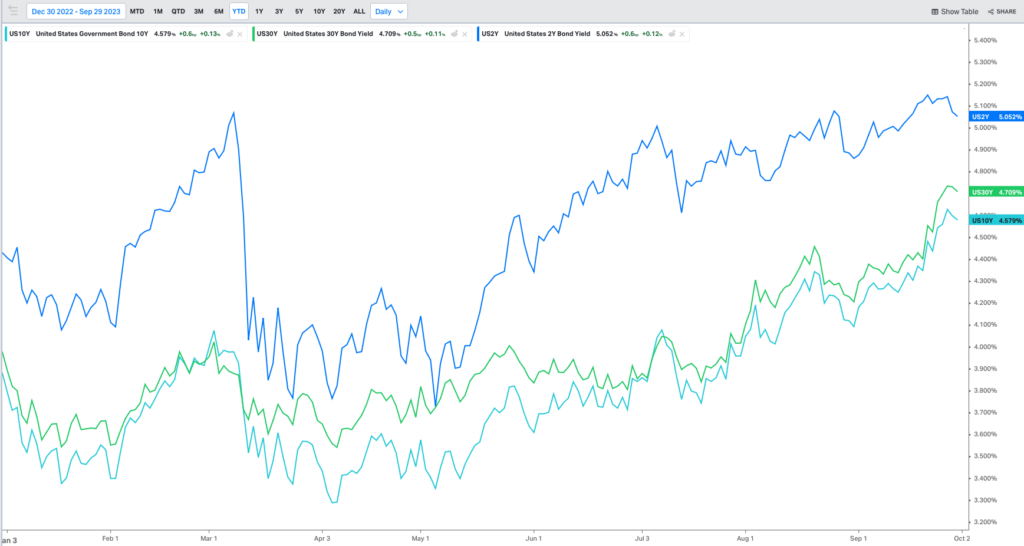 The yields on the 10 year and 2 year are breaking all sorts of highs.
Economic Events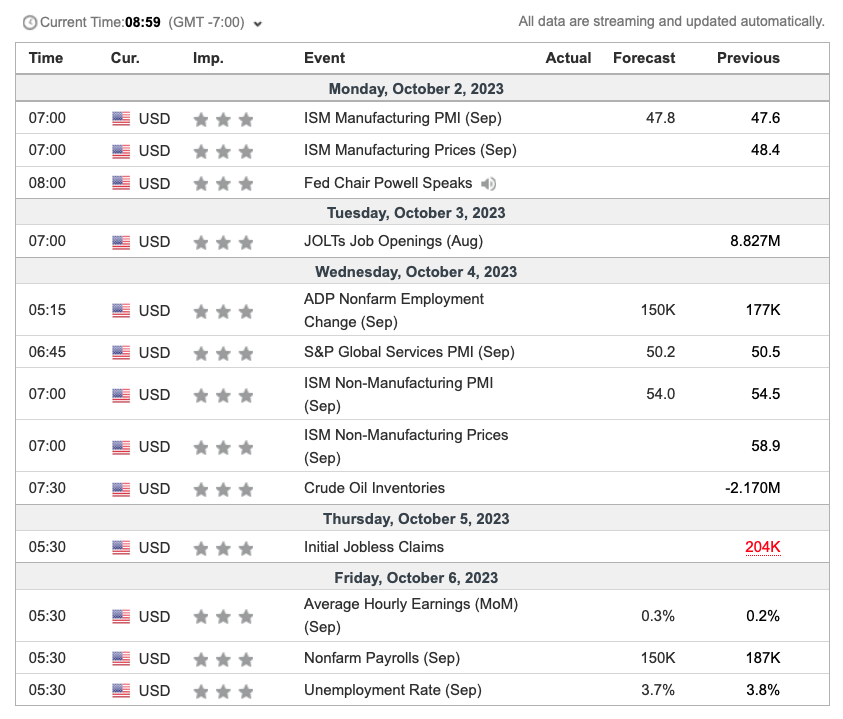 Google Sheet Embed 9/25-9/29
How to Achieve Financial Freedom
YouTube | Blog | Book | Podcast | Discord | ☕️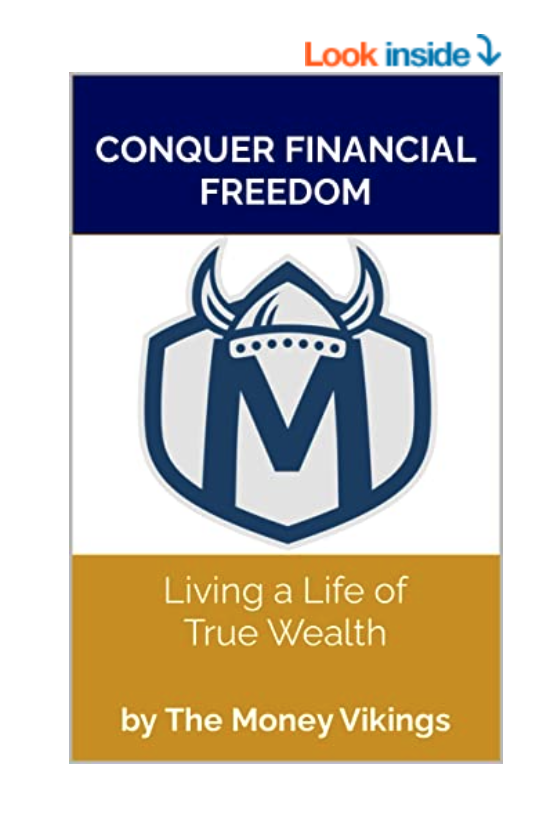 Easy Wealth Building

Fed vs Inflation
Why Finviz Heat Maps?
Heat maps help analyze the market trends and movements, showing which stocks are performing well or poorly in a more visual way. This information can be helpful in identifying potential trading opportunities, market trends, or even spotting potential risks. With the help of heat maps, traders can quickly and easily analyze large amounts of data and make informed decisions accordingly. Overall, using heat maps as a trading tool can help you stay on top of the market and gain a competitive advantage in your trades.
A Heat Map is a visual representation of data that uses colors to show the magnitude of values in a dataset. Each cell in the map is colored based on the magnitude of the value it represents. Darker shades usually represent higher values, and lighter shades represent lower values. Heat Maps are used in different fields and for various purposes, but in the context of trading they can be used to analyze market trends and movements, showing which stocks are performing well or poorly in a more visual way.
This information can be helpful in identifying potential trading opportunities, market trends, or even spotting potential risks. To interpret a Heat Map, you need to review the color key or legend to understand the value ranges that correspond to each color. Don't get too caught up in the day by day, week to week though, we are at heart long term investors who enjoy reaping the rewards of long term quality dividend stocks as well.
Once you understand the color scheme, you can look at the Heat Map to identify patterns and trends in the data being visualized. It is important to keep in mind that a Heat Map is a simplified representation of a complex set of data, so it should be interpreted with caution and in conjunction with other data sources.
All rights reserved. Money Vikings is neither an investment or financial advisor. Money Vikings does not provide financial advice and none of the information being provided is to be seen as such. This is to include, but not limited to, any articles, videos and/or any other social media outlet presented by Money Vikings. All content is the opinions, beliefs, and personal strategies of the author(s) and owner(s) of Money Vikings (Greg, Jerry). Money Vikings recommends that everyone do their own research, technical analysis, and develop their own conclusions, prior to initiating any trade activity supported by their own understanding, abilities, and risk tolerance. All trades carry inherent risk and proper risk management strategies should be used accordingly. Money Vikings does not guarantee results and is not liable in any way for losses incurred by any person or organization. Periodically, we may highlight services we are using and may receive compensation from their respective affiliate programs.